Metal Tin Buckets & Pots

Galvanised metal/tin buckets/pails in various painted colours plus plain silver. These decorative metal buckets are of the highest quality at unbeatable prices. Making perfect wedding favour buckets, sweet tree base buckets, catering buckets (when used with a liner), storage buckets/pots, the colour range is simply gorgeous. These buckets are ideal for indoor and outdoor use.
These sturdy painted buckets/pails come in high fashion colours to suit your home or colour scheme. There are 6 sizes of mini buckets, to small, medium and large sized tin buckets/pails. No sharp edges and smartly finished with rich paint. You don't have to worry about quality - our customers tell us that ours are the best in the UK! You can personalise to make them really unique.
Please note if you are putting 'naked' food into any metal bucket, we recommend you first line it with foil, greaseproof paper, tissue paper or cling film. Not suitable for Dishwasher so are Hand Wash only.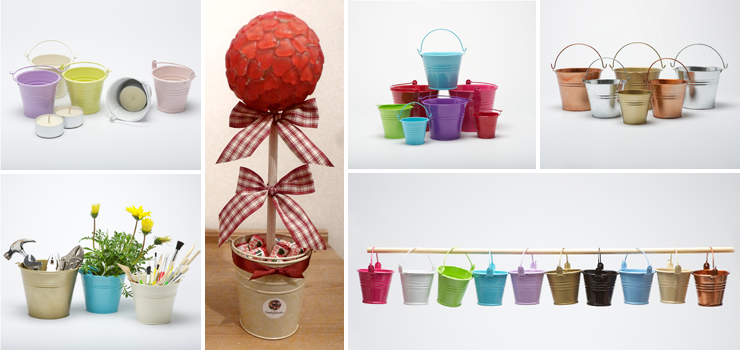 These metal buckets - pails are great for so many crafts, plants and table decorations

Find out more

These dark copper / bronze coloured metal buckets with two moveable handles are great for various crafts, plants and sweet trees, food and general storage etc

Find out more